No Comments
A New Form of Engagement | Jude Dibia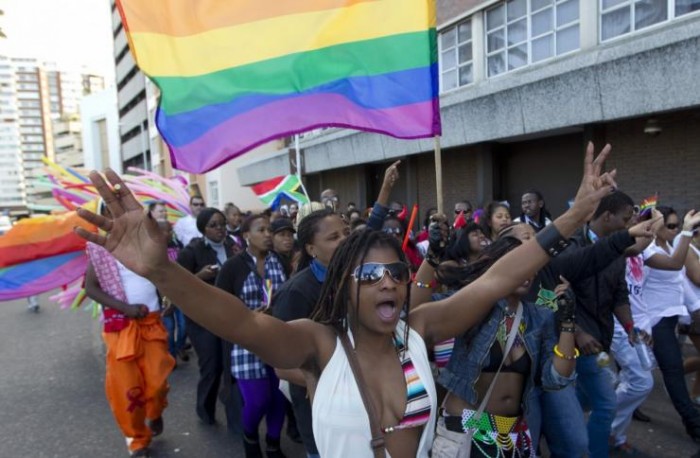 Very recently the Nigerian President Mohammed Buhari was in Washington to meet with President Obama to discuss issues pertinent to both countries,  probably more so for Nigeria with its prevalent security issues caused by the Boko Haram sect.
I found it interesting that weeks leading up to this meeting the Nigerian cyberspace had already begun to speculate on America's "gay agenda" with many voicing their opinion that President Buhari shouldn't listen or give in to Obama on gay rights issues. To put this in better context, during the recent Nigerian presidential election there was a strong rumour that made the rounds claiming that Buhari was being backed by the U.S Government on the strength that he would overturn the anti same-sex marriage law passed by the Jonathan Government, a law that was a thinly veiled anti-gay law. Also, just before America's Independence Day celebrations this year, the Supreme Court of the U.S. ruled in favour of marriage equality. Perhaps there was indeed a cause for concern that any foreign government seeking favours from the U.S. must come with a near spotless human rights record or at the very least be versed in America's policy on the protection of the rights of LGBTQI individualsglobally. But to be clear, the promotion of LGBTQI rights was not a part of the agenda of the meeting of the two presidents—security seemed to be top of the bill.
One must question why conservatives or "straight" Nigerians spend an awful lot of time thinking about gay issues and finding ways to play up resentment for LGBTQI individuals in their midst.  What purpose does this satisfy? The outcry from many Nigerians, and indeed Africans, who want to safeguard questionable traditions while using ancient texts from imported religions as the basis of their moral argument seems both dated and ironic. And there is this, the pushback and resistance when a sovereign government feels its sovereignty is being challenged. For many African countries, the United States has no right or power to determine how they treat their people.
In November of 2014, I was invited to address a small delegation from the United Nations in Geneva. PEN International and the Finnish Ambassador to the UN, Ms. Päivi Kairamo, facilitated the event, which took place at the Ambassador's official residence. Two topics dominated the discussions: how PEN can support advocacy efforts on LGBTQI Rights at the UN and the worrying growth of anti-LGBTQI legislation in many African states. Overwhelmingly, many of the guests wanted to know how they could help without their efforts being misread as interfering with the sovereignty of African countries or even coming across as patronizing. It seemed that no matter what they did to help protect the rights of LGBTQI communities in many African countries, the reverse seemed to always be the outcome. We examined the practice of many Western countries' threat to withhold aid to African countries that persecuted its LGBTQI populace and the resounding consensus was that withholding aid or threatening to do so only affected the people they were hoping to support and not the government in question. And there was always a backlash on gay communities whenever this happens. It was my opinion that the West and the UN needed to consider a new way of engaging with African countries that still imprison and killed their LGBTQI citizens. One of the ways to do this was to identify people within the government that were "quietly" sympathetic to the cause of LGBTQI individuals and communities in their countries and work quietly together with them to come up with ways to safeguard the human rights of all its citizens.
No one enjoys being told what to do and nowhere do we see this exemplified more than in the posturing and gestures of African countries and leaders pressed to change damaging laws and practices. A good example of this posturing can be seen in President Uhuru Kenyatta's reaction to Obama's remarks in Kenya on Saturday July 25, while addressing him at a news conference. On the subject of LGBTQI Kenyans, Obama said: "I believe in the principle of treating people equally under the law, and that they are deserving of equal protection under the law and that the state should not discriminate against people based on their sexual orientation. I'm unequivocal on this. If somebody is a law-abiding citizen who is going about their business and working in a job and obeying the traffic signs and doing all the other things that all citizens are supposed to do, and not harming anybody, the idea that they are going to be treated differently or abused because of who they love is wrong, full stop."
Not surprisingly, President Kenyatta was completely unmoved by President Obama's remark and instead counter stated that the issue of gay rights was a non-issue in his country. His remark drew applause from Kenyans in attendance.
More and more it has become evident that a foreign face cannot champion the cause of gay rights in Africa. Africans need to start presenting credible LGBTQI advocates and role models who would be taken seriously by their governments to bridge the gap between understanding and acceptance. Already, in the last few years, a number of credible African LGBTQI advocates have already begun to do this. Some even identifying openly as gay. And this distinction is important. It is important because it dispels a myth that homosexuality is alien to Africans. Also, it establishes that not all LGBTQI advocates are gay.
President Buhari returned from his U.S. visit and the Nigeria media went agog with the news of how he rejected the U.S. government's talks on gay rights, quoting Nigeria's sodomy laws. On social media and other online outlets many Nigerians seemed to support this and celebrate in what seemed to be a big blow dealt to LGBTQI individuals in Nigeria.
I read some of the news and followed some of the arguments and conversations on Twitter and other online platforms. It was clear that knowledge was lacking in the understanding of homosexuality and LGBTQI issues in Nigeria and in most of Africa. What seems to be of immediate need in Nigeria and many African countries is a better understanding of sexuality and human sexual development. Perhaps with a little bit of knowledge there will be more tolerance for "gay" Africans within the continent. With tolerance comes a degree of acceptance, and hopefully African leaders and governments will start reversing some of these laws that criminalize its harmless citizens.
Nigeria and most of Africa is still a long way from marriage equality and indeed recognizing the rights of LGBTQI people. It took America this long to reach this definitive consensus regarding marriage equality in spite of having laws that protect the rights of gay people.  In contrast, same-sex marriage has been legal in Sweden since April 2009. It will be pertinent to remember the acceptance of LGBTQI persons in the West was not immediate. Even the West had to educate itself on the full spectrum of sexuality and eventually reversed antiquated laws. Hilary Clinton, as Secretary of State, famously stated that the discrimination of homosexual and transgender people remained one of human rights challenges of our time. I agree with this statement.
At the moment Africa seems to be lagging behind, but surely the process of change and acceptance will eventually come and Africans themselves will champion it.
Jude Dibia is the author of Walking with Shadows, Unbridled and Blackbird. His writings explore the realities of gay Africans living in the continent and the challenges and abuse they face daily.Dibia writes from Sweden where he lives and is the current guest writer in Malmö City of Refuge.