No Comments
Being Queer in Tehran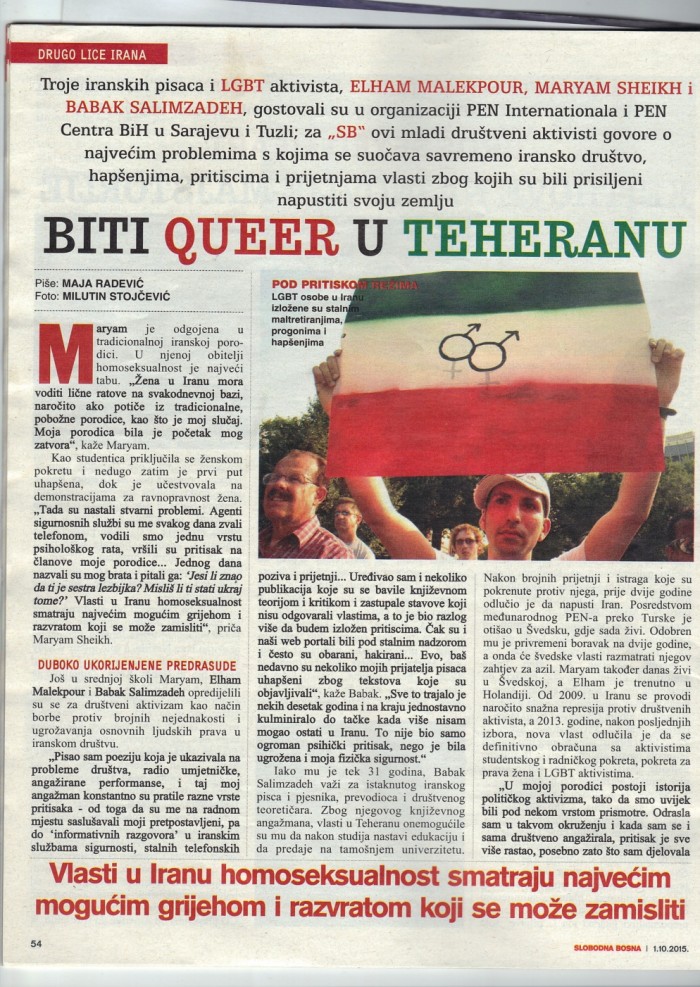 Originally published in Slobodna Bosna.
Three Iranian writers and LGBT activists, Elham Malekpour, Maryam Sheikh and Babak Salimzadeh, were guests at the PEN International organisastion and PEN Centre of BiH in Sarajevo and Tuzla; these young civil activists spoke with SB about the biggest problems facing the contemporary society of Iran, about the arrests, pressure and threats from the authorities which forced them to leave their country.
BEING QUEER IN TEHRAN
By Maja Radevic
Pictures: Milutin Stojcevic
Maryam was raised in a traditional Iranian family. Homosexuality is the biggest taboo in her family. "A woman in Iran needs to conduct her personal wars on a day-to-day basis, in particular if she comes from a traditional, pious family, which was true in my case. My family was the start of my prison," Maryam says.
As a student, she joined the feminist movement and was arrested for the first time soon after that, while participating in demonstrations for equal rights for women. "Then the real problems began. Agents of the security services called me on the phone every day, they conduct a psychological warfare, they exerted pressure on members of my family…. One day, I called my brother and asked him: "Do you know your sister is a lesbian? Do you want to come at the end of this?" The authorities in Iran consider homosexuality to be the greatest possible sin and debauchery that one can imagine," Maryam Sheikh says.
Deeply rooted prejudice
Already in secondary school, Maryam, Elham Malekpour and Babak Salimzadeh decided to pursue civil activism as a way of fighting against many inequalities and threats to their personal human rights in Iranian society.
"I wrote poetry highlighting the problems in society, I did artistic, committed performances and that commitment of mine was always followed by various kinds of pressure – from my superiors interrogating me in my workplace through to 'information meetings' at the Iranian security services, constant telephone calls and threats. I edited some publications that dealt with literary theory and criticism and represented views that were not in favour with the authorities, and this was an additional reason for me to be exposed to pressure. Our web portals were also under constant surveillance and often blocked, hacked… Just recently several of my friend writers were arrested due to texts that they had published," Babak says. "All of this lasted several decades and ultimately culminated in me no longer being able to stay in Iran. It wasn't just the major psychological pressure, but my physical well-being was also being threatened."
Although he is only 31 years old, Babak Salimzadeh is considered to be a distinguished Iranian writer and poet, translator and social theorist. Due to his literary commitment, the authorities in Tehran allowed him to continue his education after his school studies and that he continue learning at the local university. After numerous threats and investigations conducted against him, he decided to leave Iran two years ago. Through PEN International, he went via Turkey to Sweden, where he currently lives. He has been granted temporary leave for two years, and then the Swedish authorities will consider his asylum application. Maryam today also lives in Sweden, and Elham is currently in the Netherlands. Since 2009 particularly harsh repression has been conducted in Iran against social activists, and in 2013, after the most recent elections, the new authorities decided to finally settle the scores with the activists of the student and workers movement as well as the movements for women's rights and LGBT activists.
"In my family, there is a history of political activism, for which reason we have always been under some sort of surveillance. I grew up in such an environment, and when I got engaged socially myself, the pressure kept on increasing, in particular because I was active in the queer movement," says Elham Malekpour. "I tried to connect with people who had a similar orientation, in other words are members of sexual minorities in Iran. We mainly contacted and agreed activities via the internet – that is the only more or less free space remaining in Iran. This caused me numerous problems during school and prohibited me from enrolling in postgraduate studies. I worked as an editor in a publishing house and there I was openly told that they must dismiss me for my sexual orientation."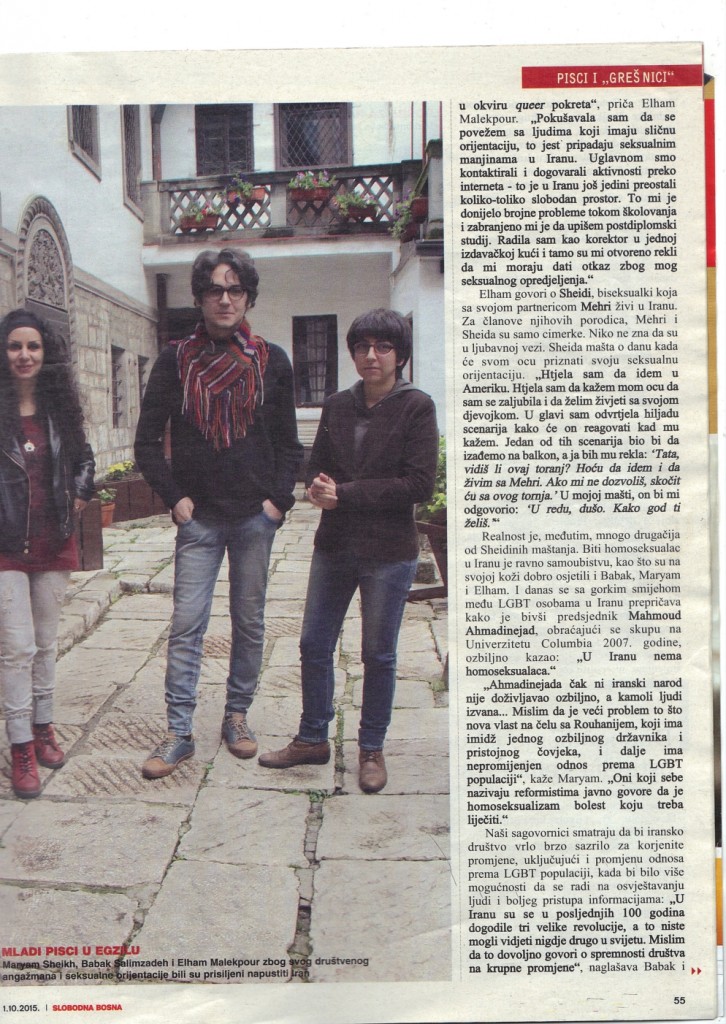 Elham speaks about Sheidi, a bisexual who lives with her partner Mehri in Iran. For the members of their families, Mehri and Sheida are simply flatmates. Nobody knows that they are in a love relationship. Sheida dreams of the day when she can admit her sexual orientation to her father: "I wanted to go to the US. I wanted to tell my father that I am in love and that I wish to live with my girl. In my head, I went through thousands of scenarios of how he would react when I told him. One of these scenarios was that we go out onto the balcony and I would tell him: "Dad, do you see that tower? I want to go and live with Mehri. If you don't allow me to, I will jump off that tower." In my imagination he would reply to me: "Fine, dear. Whatever you wish."
The reality, however, is a lot different from Sheida's imagination. Being homosexual in Iran is equal to suicide, as Babak, Maryam and Elham got to feel for themselves. To this day, the LGBT community in Iran recounts with a bitter laugh the episode when Mahmoud Ahmadinejad, when addressing a convention at Columbia University in 2007, said with all conviction: "There are no homosexuals in Iran."
"Not even the Iranian people took Ahmadinejad seriously, and people from abroad most certainly didn't… I think that the bigger problem is that the new rulers headed up by Rouhani, who has the image of being a serious statesman and polite person, continue to have an unchanged approach to the LGBT community," says Maryam. "Those who call themselves reformers openly say that homosexuality is a sickness that needs to be treated."
Our interviewees believe that Iranian society would very quickly be ready for deeply rooted changes, including a change in the relationship to the LGBT community, if there were more possibilities of working to raise people's awareness and better access to information: "Three major revolutions have taken place in Iran over the past 100 years, and this hasn't been seen anywhere else in the world. I think that this speaks sufficiently of the willingness of society to make major changes," notes Babak and adds: "We are seeing industrial action literally every day and, on the other hand, the student movement continues to exist in Iran, regardless of how much the authorities attempt to strangle and stop it. It's clear that there is a boiling and wish for change in society. But we believe that what we call the international community would not like major changes to Iranian society. They are rooting for a continuation of the process of neoliberalisation of society in order to maintain cheap labour."
"The inability of any rule", as the fundamental idea of the Iranian revolution of 1979, has today been replaced with the rule of capital, religion and bureaucratic politics, says Maryam Sheikh. She reveals to us that there are also many similarities between the societies of Iran and Bosnia-Herzegovina, in particular when speaking about the model of privatisation, which appears as if it had been "transcribed" from Bosnia-Herzegovina: "Those who had the opportunity to come into ownership of privatised industrial objects are those who in practice, under the guides of privatisation, used the generous subsidies and corruption inside the stat apparatus, they obtained at prices far from the real ones ownership of property that was several times more valuable than what was actually paid. As such, privatisation was in practice the means of a massive exploitation, while at the same time the social care for the poor social strata is reduced. The problem is that the majority of Iranians, in particular the working classes, live in a media blockade, we have strongly controlled state media, state TV that propagates only one ideological framework… The middles classes, again, gravitate strongly towards the idea of parliamentarism and live in the false conviction that elections can change something fundamentally, but that simply doesn't happen."
All figures who have been replacing one another on the political scene in Iran for decades are essentially taking the same route and have the same views so that they occasionally appear in different editions in line with the needs, adds Elham: "There are separate mechanisms to manipulate society which official Iranian politics has used since as far back as the days of the revolution to this day. Let's say periods occur when stricter laws are enacted, then after a specific period of time legislation is relaxed, and the state legislative and social customs work in parallel with this – sometimes the country is governed by laws, sometimes by customs depending on what suits the people in power at the time.
Repression of women
The crisis situation in the country is above all the result of neoliberal politics, believe the Iranian activists. The concentration of wealth and power in the hands of a very limited number of people also gives rise to repression of women, sexual minorities, students, workers, etc. The situation of women among social activists in Iran is specific taking into account that women are "handicapped" in many ways in this society, even if they are not pursuing activism. "It's difficult for women to find work, and if they manage to get employed, they only get contracts for a temporary period and generally earn a lot less than men. What's more, boys and girls are separated at university, in public spaces there are "education activists" who reprimand women for the way they dress or wear their make-up, they also impose cash fines on them… On the other hand, women are messages in society who by definition should represent the right woman, mainly do the opposite and call for modesty and staying within the confines of the family, this life is in line with the Sharia," says Maryam.
Despite the difficult experiences, Babal, Elham and Maryam hope that one day they will be able to return to Iran and live freely in accordance with their personal choices and convictions. "The most difficult thing is ending up without friends, like-minded people with whom one socialised, worked and tried to fight against social injustice," says Bavak. "Regardless of how far away we are, we are all consistently hearing the voices arriving from Iran and believe that one day we will be able to return and live together again."
"You never lose hope, but the most important thing is that we have the possibility to live our lives the way we like and that is what we will continue to do, regardless of the conditions we find ourselves in," concludes Maryam Sheikh.
Long-standing experience of violence leaves major trauma
LGBT persons from Iran in exile sense major mental consequences, says Elham Malekpour: "The life of a person who is a member of a sexual minority is complicated everywhere, regardless of the society we are talking about, and in particular if you want to start a family, have children… Queer people coming from Iran to Western countries bring with them this long-standing experience of violence which they were exposed to in their country of origin to due to their sexual orientation, which ranges from verbal, mental violence through to sexual abuse and problems in the family…
All of this naturally affects our lives. In the countries we are living now, we have two years of guaranteed care and the question is what will happen next. And you need to feign for yourself with your own funds, find work, integrate in a new environment… Furthermore, the majority of us, after leaving Iran, cut all ties with our families and that makes everything even more difficult. We do not fit into the Iranian diaspora, which is also very conservative."
Video: Sanja Ljiljana Cobic